Do you want to be happy at home, but you aren't sure how to get from here to there? Try these simple and concrete ideas on how to be happier at home.
Being Happy at Home
Create Your Own Space
A home is a largely shared space. You share the kitchen, the living room–even the bathroom–with everyone else who lives there. But everyone needs a space to call their own, even inside their own home.
This isn't selfish; it's natural! You need an away space or at least a personal space all for you. This could be a dedicated room or even a corner of a shared room.
Ask yourself, "What kind of space would bring me the most joy?"
Perhaps you are crafty and a creative space would suit you. Perhaps you'd like a more open space for yoga or fitness. Or maybe you want a place to simply relax.
Surround your space with objects that bring light to your eyes. Here are some ideas: a special chair, a soft blanket, a lamp with a light-filtering share, a live plant, a basket of books or magazines, a beautiful picture or inspirational wall quote, a scented candle, a photo of a favorite place or memory, a patterned yoga mat, etc.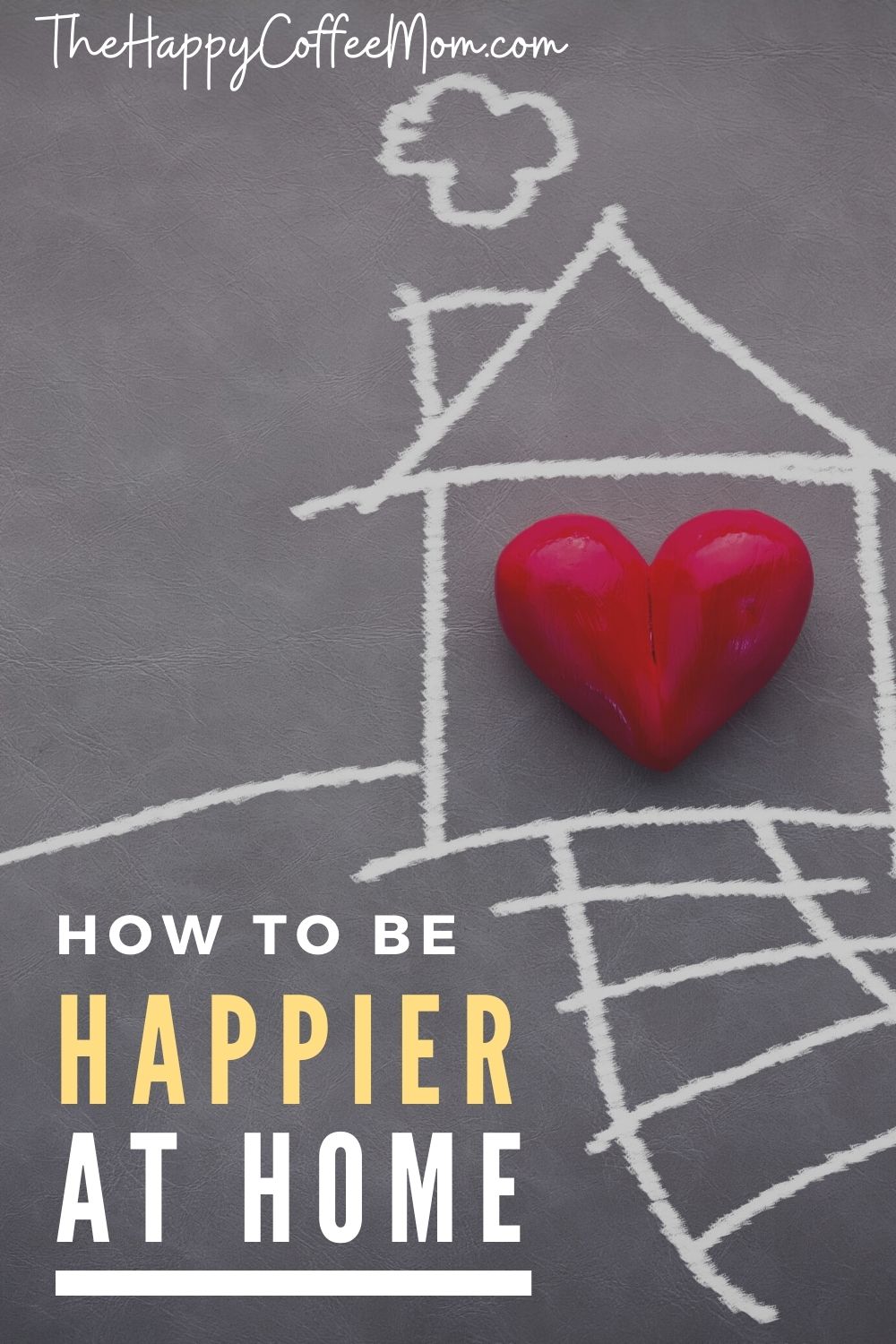 Look Within to Be Happier at Home
Now that you have your own space, carve out a few minutes to look within. I know what you're thinking, "Who has time for that?" But this is a necessary step to being a happier mom. Make sure the kids are safe and secure for five minutes, grab your cup of coffee, and head to your space.
We can easily be consumed by the constant flood of our childrens' needs, keeping the house together, and running errands. But "powering-through" the day without regard for yourself is setting the stage for fatigue and unhappiness.
Set aside a few quiet moments at the start of the day to take an inventory of your emotional well-being.
How are you feeling? Lonely? Happy? Irritable? Just fine? Overwhelmed? Be honest with yourself about your starting place.
It's okay to be wherever you are.
Then focus your thoughts for the day. You can do this through prayer or meditation. You can think of an inspiring quote. You can take long deep breaths–breathe in peace and refreshment; breathe out negative feelings. Whatever you choose to do during this small window of time is a huge piece of being happy at home.
Focus on Your Health and Wellness
Mom comes last. That's the way it feels, right? But a secret of how to be happier at home is that you do need to put yourself first sometimes, especially in regards to your health and wellness.
Drink Water. Wait, can't I just drink coffee? Coffee can contribute to your overall fluid intake, but you should drink eight glasses of water in addition to your other beverages. Drinking water can boost your energy level, help with weight loss, keep your skin clear and youthful, and even stave off headaches.
Remember Movement. Sure, chasing kids around is definitely "lifestyle fitness," but incorporate some dedicated movement time into your day as well. Do some sun salutations, take a walk around the neighborhood, or go on a bike ride. You can easily incorporate your kids into these activities too.
Keep Those Doctor Appointments. I know you feel like you live at the pediatrician's office, but it is important for you to keep up your wellness checks too. This extends to more than just your physical health–it applies to your mental health visits as well.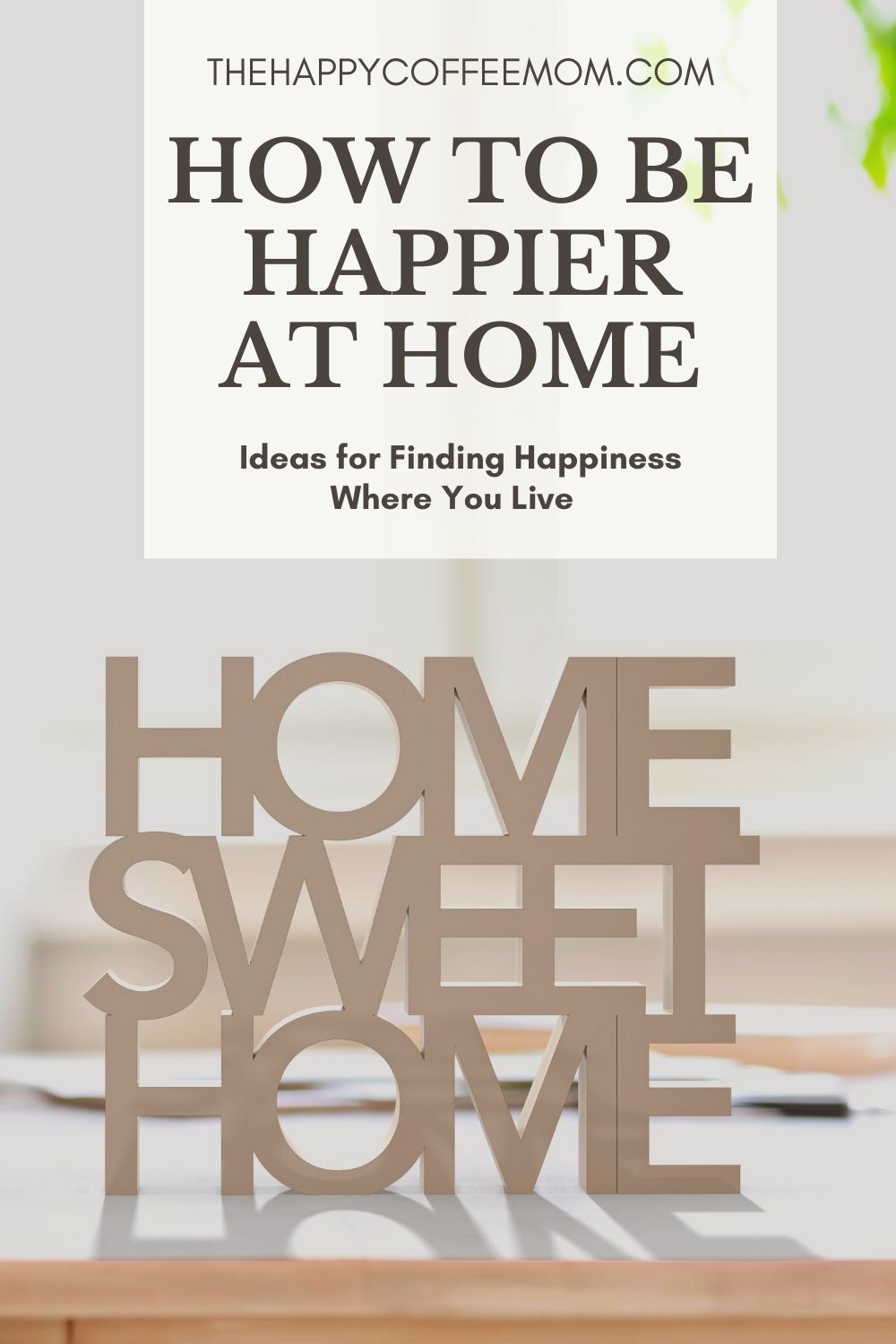 Hobbies
If you heave a sigh thinking about your vibrant, pre-kid self–your full social calendar, your wealth of entertaining stories, and your personal pursuits–take a look in the mirror. You are still you.
Yes, raising kids takes a lot of time and energy, but you can still have your hobbies. Having some interests outside of your children and family can help you to be happy at home. Everyone likes to grow, develop, and learn.
You may not have room for time-consuming hobbies, but you can add one or two "mini-versions" to your life.
Learn a New Language. The DuoLingo app for Apple or Android has plans that involve only five minutes a day. You'll soon be on your way to knowing Italian, German, Japanese, or Esperanto (or dozens of other languages).
Get a Green Thumb. Plant an indoor or outdoor herb garden. Grows flowers in window boxes. Sprout alfalfa or grow wheatgrass in your kitchen.
Capture Memories. If you are a creative type, take up photography–even on your camera phone. Your Instagram doesn't have to be just cute photos of your kids. Or design scrapbooks or photobooks to capture your family pics.
Become a Birder. Set up a bird feeder and get a bird identification book. Or learn about your native trees or flowers. Visit nature trails.
Being Happier at Home Starts From Within
If you want to learn how to be happier at home, the key is to take a step and try something new. Even a small step. You are not stuck where you are. Sometimes even little changes to your routine can yield enormous payoffs in your levels of joy and peace.